[ad_1]

In prime position on the waterfront, The Bristol Hotel makes a bold eponymous claim to be the place to stay in Bristol. First opening in the 1960s, the Royal Institute of British architects now recognise the hotel as a prime example of the Modern Architecture movement.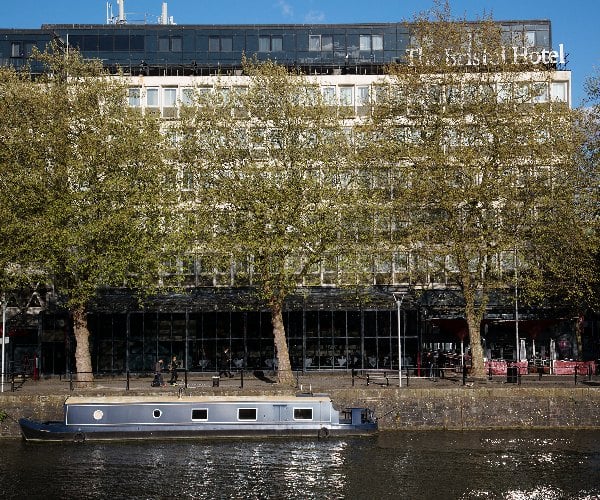 The 187-room hotel is a member of The Doyle Collection, a carefully curated collection of eight Irish-family-owned luxury and urban hotels located centrally in London, Dublin, Washington DC, Cork as well as Bristol.
Protesters toppling slave-trader Edward Colston's statue into the docks' waters briefly reignited Bristol's reputation as The Wild, Wild West. Nowadays, Bristol with its easy-going ambience is more often known as The Mild, Mild West after Banksy's mural.
The welcome
A neighbouring NCP car park makes parking easy. Alternatively, The Bristol Hotel is a ten-minute walk from Temple Mead railway station. A friendly welcome at reception gives us a city centre map and reassurances that the best of Bristol is within walking distance.
The room
High-up on the sixth and top floor our deluxe room has views over Bristol's skyline, with waterside glimpses to the right. An exceptionally well-upholstered burgundy armchair looks out over those views. Touch screen climate control proves very effective. Although this is only March, balmy spring temperatures call for air-conditioning.
Opposite the wide double bed dressed with crisp white linen and a burgundy throw, there is a large wall-mounted flat screen television with Chromecast and Sky Sports.
The bathroom
Low-level night lighting is almost de rigueur in top quality hotels nowadays and the spacious bathroom obliges. In the shower over the bath there is a choice of above-head shower or a hand-held shower.
A panel of high-tech controls promptly respond to regulate flow and temperature. Toiletries are by Temple Spa.
Facilities
The light-filled River Grille, a waterside conservatory, with tall floor-to-ceiling windows is The Bristol Hotel's star attraction. For dinner, try to get one of the window tables so that you see daylight fading over the harbourside. Then watch as colourful night-lights shimmer on the water.
A Josper Grille gives the chefs precision grilling over charcoal. Tender steaks made from 28 day aged West Country beef are at the heart of the menu. Seafood is sourced from Devon's fishing port at Brixton.
Bristol is creatively pushing plant-based recipes. Vegan meals at the River Grille include a super grain salad with an option to add vegan halloumi or vegan mozzarella. Alternatively, there are options of celeriac steak and roasted vegetables on focaccia. The texture of the vegan burger is so impressive that it is hard to believe that it is not meat.
Shore Café Bar is an al fresco Harbourside location offering tapas-style small plates and lighter meals as well a drinks menu ranging from coffee to cocktails. The fourth floor hosts a fitness suite including treadmills, cycle, dumbbells and medicine balls.
Location
Go online to book a slot for a free visit to M – Shed. Housed in a former dockside warehouse, the museum is a four-minute walk from The Bristol Hotel. Exhibitions show Bristol's past through its places, people and objects. As well as sensitively dealing with Bristol's role in both the slave trade and its abolition, M – Shed also celebrates Bristol's current heroes: young carers, pioneering robotic engineers, graffiti artists and autism activists. Until June 5th 2022, M – Shed displays 100 entries from the Wildlife Photographer of the Year Competition.
At the SS Great Britain learn how Isambard Kingdom Brunel originally planned a paddle-driven ship until a propeller driven ship docked at Bristol. The Archimedes inspired Brunel to change his plans mid-construction. The result was a ship that sailed more than a million miles driven by a single propeller. A tour of the ship reveals how it was a floating town with barber, butcher, doctor and stables. Even in First Class, bunks were snug in an era when 5′ 5″ was a good height.
The Being Brunel exhibition illustrates how the entrepreneurial engineer was driven by a desire to improve the journey from London to New York. Brunel aspired to a Great Western railway from London to Bristol so smooth that travellers could travel at 45 mph without spilling a drop of their coffee.
Watch Ravioli, the stingray, being fed at the Bristol Aquarium. Learn how 26 kilo shape-shifting octopi can squeeze themselves through a two inch diameter hole. Though this aquarium is where SeaWorld meets Kew Gardens.
At the top of the dome a hothouse creates Amazonian conditions, showing a colourful array of South American plants. Neighbouring "We are the curious" takes a challenging and interactive approach to science. Visitors are encouraged to ask questions, test ideas and work towards answers.
Other nice touches
Reception gifts a bag of hand sanitiser and wipes to each guest on check-in. A bar of hotel chocolate is the next welcome gift.
Hanging "Do not disturb" signs on bedroom doors is so 20th century. Instead, the hotel has a quote from Van Morrison to display: "I'm taking some quiet time with my quiet friend."
The cost
Rooms begin from £99 including breakfast. For hotel guests the exit charge for the neighbouring NCP car park is £9.
The best bit
The Bristol Hotel is at the heart of the Harbourside, located between Bristol's historic cobbled Narrow Quay and elegant Queen Square. Less than a minute away,the Arnolfini Contemporary Art Gallery is the closest must-see attraction.
Beyond the harbourside, Bristol has much, much more to entertain visitors: The Clifton Suspension Bridge, The Old Vic, The Street Art Trail and a theatre visit to The Old Vic.
The final verdict
The Bristol Hotel is a calm, luxurious base for exploring the buzzing harbourside. It exhibits the Doyle service ethos of real warmth and thoughtfulness.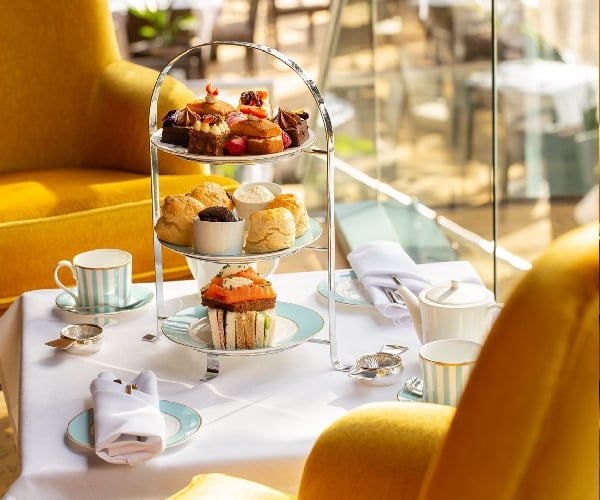 It is no surprise that the staff is smiling. Not only do they work for a much-loved family business but in recent years Bristol has been acclaimed as Britain's happiest city and the best place to live.
Disclosure: Our stay was sponsored by The Bristol Hotel and Visit Bristol.


[ad_2]

Source link