[ad_1]

Four Seasons Hotel Kuwait at Burj Alshaya will feature the popular Jawaher Tent offering seating for up to 600 guests as well as two Majlis areas housing six separate spaces, as well as three sections of elevated VIP seating. The hotel's Al Bidaa Ballroom which will be transformed into a beautiful Ramadan dining destination that embodies the holy month's most cherished traditions.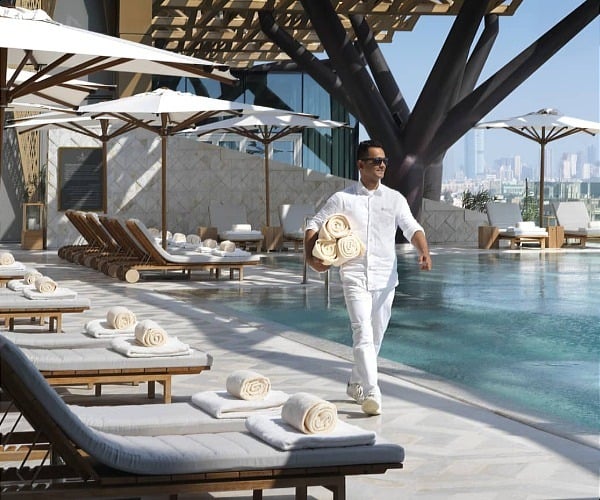 The Ramadan magic is brought to life with exquisite seasonal decorations and luxurious furnishings, creating a charming ambience that is complemented by authentic Arabian hospitality. Diners can look forward to sharing the joyful custom of breaking the fast with a lavish Iftar meal or gathering for a delightful Ghabga spread as the air fills with traditional folk melodies from local musicians, adding to the spellbinding atmosphere and providing a taste of Kuwait's rich cultural heritage.
"The holy month is a special time of year when we gather with loved ones to celebrate and share precious moments. There is a tremendous appetite among the people of Kuwait to embrace Ramadan's spirit of unity," commented Didier Jardin, General Manager, Four Seasons Hotel Kuwait at Burj Alshaya. "The entire team is grateful for the opportunity to serve guests on this joyous occasion and proud to bring these treasured traditions to life with elevated levels of luxury and Four Seasons signature intuitive hospitality. We look forward to welcoming diners to our beautiful Jawaher Tent to experience an unforgettable evening together and create memories to last a lifetime."
No Iftar celebration is complete without an abundance of delicious food. The Jawaher Tent's lavish buffet invites diners to explore a world of culinary delights and offers a feast for the senses with an array of live cooking stations, hot and cold mezze, a salad corner, and a Ramadan juice bar. This year promises an unmissable experience as Four Seasons Executive Chef Thierry Papiller will be sharing his exceptional craftsmanship during his first Ramadan with the Hotel. A passionate culinary artisan with more than 15 years of experience, Chef Papiller was employed by five Michelin-starred restaurants in France before the age of 25 and has lined up an incredible variety of dishes from around the world to suit every taste.
Diners will have the opportunity to indulge in local favourites such as jareesh, harees, and lamb machbos, alongside a diverse selection of perfectly prepared Moroccan, Indian, Lebanese, and Egyptian dishes. A huge selection of tempting desserts, Kuwaiti and international sweets, and a free-flowing chocolate fountain invite guests to end their meals on a sweet note, together with waffle, crepe, and fresh fruit carving stations. Meanwhile, the Shisha area offers the ideal spot to relax and unwind in the company of family and friends and enjoy conversations long into the night.
Executive Chef Thierry Papiller commented: "I'm tremendously excited to spend my first Ramadan in Kuwait and would like to extend warm congratulations to the nation and its people on this blessed occasion. Food has always been one of the most wonderful ways to create memories, and I believe we are offering much more than just a delicious menu; our Jawaher Tent is all about bringing people together to share a unique experience with those who are closest to them. It is an honour and a privilege to prepare this special meal that holds a deep significance in the hearts of our guests, and I look forward to contributing to their enjoyment of beautiful Ramadan evenings in our stunning venue throughout the holy month."
This year, Al Mulla Group is partnering with Four Seasons Hotel Kuwait at Burj Alshaya for the first time to celebrate Ramadan. Al Mulla Group's Automotive Division is the Platinum and Sole Sponsor for the famous Jawaher Tent. Four of the latest models of the exclusive brands of Mercedes-Benz, Jeep and Acura will be in display for the entire month of Ramadan for Jawaher diners to enjoy exploring.
The hotel has also prepared an exciting program of fun and engaging activities for younger guests in the special Kids Corner. The sessions will feature a different theme each day and are led by the highly trained Kids For All Seasons team, giving parents peace of mind to relax and enjoy one of the outstanding dining packages on offer.
Iftar will be served daily between sunset and 8:30 pm, while Ghabga is available from 9:30 pm until 2:00 am. Packages start from KD24 ($78.7) per person including full buffet access and hot and cold beverages. Diners who wish to entertain in their own private space can choose from special Majlis or Lounge packages for up to 5 people at a rate of KD150, with additional guests charged at KD30. Children aged 6 – 11 dine for just KD12 during both Iftar and Ghabga, while kids aged 5 years and under are welcomed free of charge.


[ad_2]

Source link